Product Description
PET MDF BOARD .
PET coated mdf .PET stands for "polyethylene terephthalate" and MDF for '' Medium Density Fiberboard''. PET is eco-friendly ,no toxic gas released ,strong, impact and scratch-resistant, an excellent water and moisture barrier material, PET is widely used for food packing material The surface is made of Korea imported PET. The PET surface is applied to MDF with high-tech German technology under high heat and pressure with PUR glue.
| | |
| --- | --- |
| Product | PET MDF Board |
| Size | 1220*2440 MM 1220*2750 mm, 1220*3050 Thickness 5, 6, 9, 12, 15, 16, 18, 25mm |
| Core | MDF, HDF, Plywood, OSB, Particle board, PVC Foam board ETc |
| Hardness | Above 2H,Scratch resistance |
| Surface finishing | Korean LG PET Sheet |
| Adhesive | Germany brand hot-melt- glue |
| Back finishing | White or matching color high quality melamine |
| Color | Solid color, wood grain color, Aluminum, texture |
SETTING PET film paramaters
Index
Unit
Test Result
Test Method
High gloss
Supper Matt
High gloss
/
>92
<5
60 glossy meter
Tensile strength

Machine Direction
kg/cm3
≧400
≧400
DIN EN ISO 527-1
kg/cm3
≧350
≧350
Tear Strength

Transvere Direction
kg/cm3
≧100
≧100
DIN EN ISO 527-1
kg/cm3
≧100
≧100
Scratch-resistance
Class
4F
4F
DIN68861-4
Abrasion
Class
2A
2A
DIN68861-2
UV resistance
Grey scale
5
5
IS04892-2
Chemical resistance
Class
1B
1B
DIN 68861-1
Wet heat resistance
Class
8B (70 ℃)
8B (70 ℃)
DIN68861-8
Dry heat resistance
Class
7D(70 ℃)
7D(70 ℃)
DIN68861-7
It has good acid-resistance and alkali-resistance.
Its performance will not change even the temperature is -25℃or 400℃.
Easy cleaning, simple daily maintenance.
Any color is available
MDF PET Surface Panel could be easily treated and edge-covered. Appropriate for wall decoration, office furniture, household furniture, kitchen cabinet and so on.
Our company supply Particleboard PET Surface Panel, we have a whole set of the quality management system.
SETTING PET MDF BOARD COMPARE WITH OTHER COMPANY'S PET MDF BOARD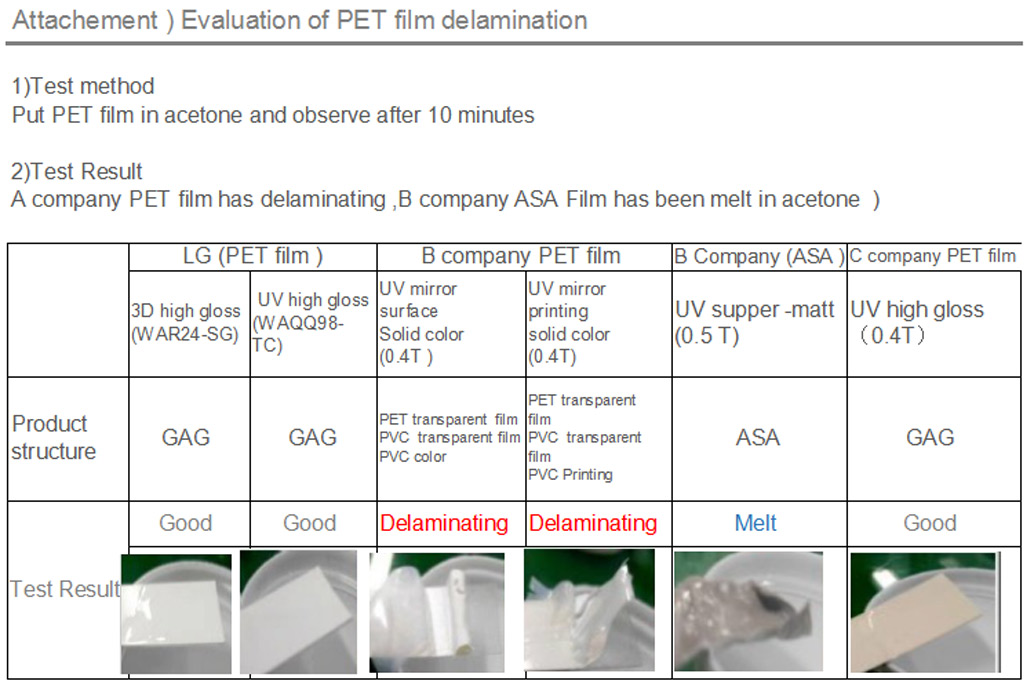 The advantages of setting PET MDF board

Eco-friendly : PET is widly used for food packing which is no toxic gas relased and can be degradable .
UV -Resistance : PET mdf board surface with LG additives ,Reflecting the light .Performing best uv resistance .
Scratch-Resistance :With newly developed coating system ,Scratch resistance has been improved .
Flatness and abrassion resistance :Extrame mark resistance and abrasion resistance ,Low orange peel and flow mark

No color difference :Batch to batch color stable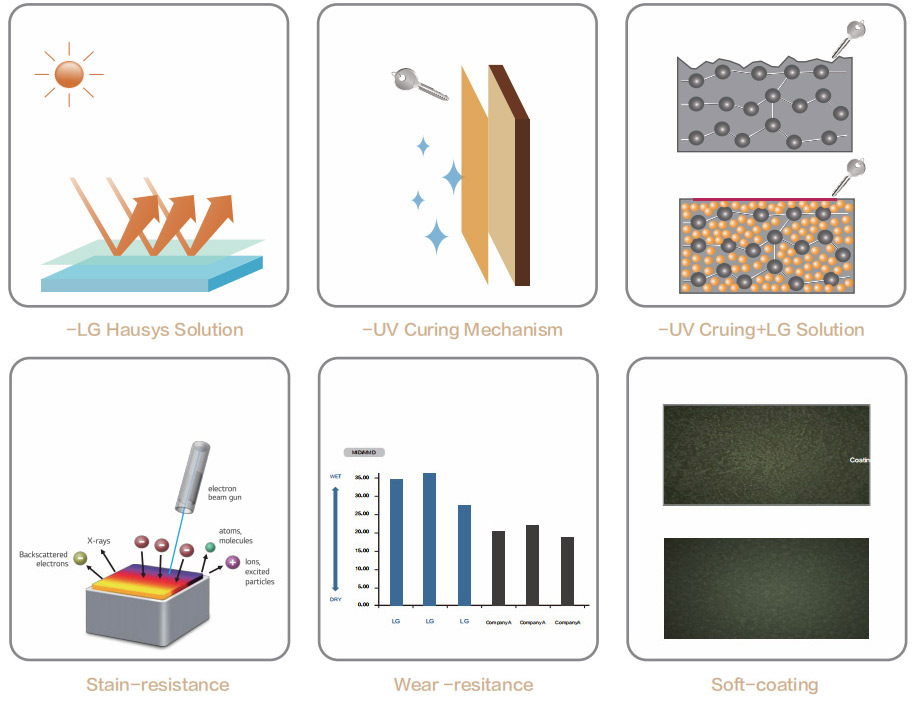 The application of PET MDF Board :
Our PET coated MDF panels are used for all millwork projects such as:
kitchen cabinets
bathroom vanity cabinets
office cabinets
custom closets
modern display units
furniture, store fixtures
interior wall panels
Colors of PET MDF Board :
We have more than 60 colors of PET mdf board available .The colors contains :
High gloss Plain color series
Wood grain series
Marble stone color series
Deep imbossed series
Metal brushed series